---
Pottery Studio FUWARI
---
FUWARI Pottery-Making Classes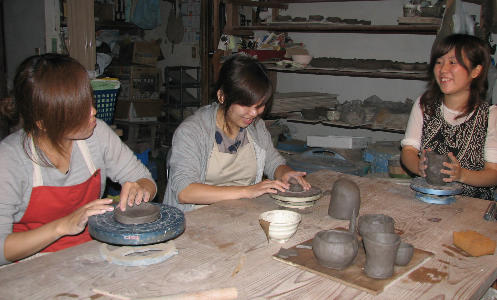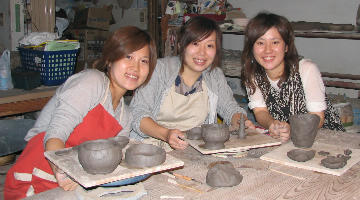 Why donft you experience pottery-making!
Clay has a kind of healing power.
Working with clay will set your mind at ease; it will give you a feeling of nostalgia.
course
basic time period
lesson fee
one-time course
2 hours
\3000
Including costs for clay and firing
regular course
2 times/month
2 hours
\5000/month
The material cost includes firing

clay (red) \1100/kg
clay (white) \1000/kg

3 times/month
2 hours
\7500/month
4 times/month
2 hours
\10000/month
additional/each
\2500/each
registration fee
\5000
One-time course@( experience course )
If you want to experience making pottery yourself , please come to our Pottery Studio Fuwari.
You can have an experience of shaping clay handmade or on a potterfs wheel.

With 1kg of clay, you can make two or three pieces, for example, teacups or small plates.
Normally these pieces are to be dried for some time (depending on the size and the weather, etc)
before the finishing process of glazing and firing. But, as you might not have that time in
the one-time course, the Pottery Studio Fuwari will do the finishing process on your behalf.
You can specify color on your pottery.
It takes about 2 months to complete the process according to the firing cycle.
Basic charge
3000 yen (including fireing fee)
Clay - 1kg
Experience time - 1 and harf hours
additional fee
In case
· If the selected work exceeds 1kg, it is an extra charge of 100 yen per 100 g of excess.
· The electricwheel work costs 200 yen per finishing fee per 1pot.
· Experience time will be charged an additional charge of 1000 yen per hour extension.
· If you wish to ship, shipping fee will be charged.
Painting experience
If you can visit again at a later date
You can experience painting and glazing on your own.
The fee will be 1500 yen per hour.
---
---


Regular course
If you get hooked on pottery-making, you can have lessons regularly. You will shape your
clay items in the first lesson and finish them in the following lessons continuously. Thus
you can make pottery, learning all the processes from shaping to decorating the surface of
your works, or painting them after the bisque firing and glazing.
Other
We also have a painting-ceramics course, in which you will enjoy painting biscuit pieces
made by the Pottery Studio Fuwari.@
The prices vary with the pieces. (e.g. a small plate, a teacup: \1000 ~)
A shipping charge will be added if you want your finished works sent to you.

@All course booking required
---
@Book from here ?

This reservation site is a Japanese page.
If you do not understand Japanese
Please email the date and time you want to book and the number of participants.
mail to kobofuwari@gmail.com

book from here

Sorry but this website is written Japanese
---
---
-Welcome to Pottery Studio Fuwari -
Directions
™By train

EJR Utsunomiya st. or Tobu Line Utsunomiya st. -- Toya Bus bound for Mashiko
(about 1 hour)¨ Jonaizaka bus stop-(15 mins walk) ¨ Fuwari
EJR Tohoku Line Oyama st. ¨ Mito Line - Simodate st. ¨Moka Line - Mashiko st. ¨ (30 mins walk)-Fuwari
™By Express Busy Kanto Pottery Liner z from Tokyo(Akihabara) to Mashiko

Eakihabara st. ¨@Togei Messe iriguchi (Ceramic Messe entrance)
Etakes about 2.5 hours E fare One-way@2,100 yen 2times or return 3,700yen@
™By car
From South,West and East
EKita-Kanto Expressway, Moka or Sakuragawa-chikusei Interchange ¨ Fuwari(about 20 mins)
From North
ETohoku Expressway,Yaita Interchange¨ R4¨R408¨R123¨R294 ¨ Fuwari (about 1 hour)
---
If these directions are not clear, please contact us; phone 0285-72-5266
---
---